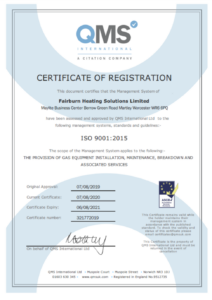 We're delighted to confirm that after much hard work, our ISO 9001:2015 accreditation has been renewed to August 2021.  The ISO 9001 international standard helps companies like Fairburn Heating Solutions ensure that customers consistently receive high quality products and services that meet regulatory requirements.
Craig Carr, Managing Director of Fairburn Heating Solutions said "It is very gratifying to see the hard work of the whole team rewarded by the renewal of our ISO 9001 accreditation.  It's a great way to demonstrate to our customers, our team and other stakeholders the high importance we place on quality here at Fairburn."
To secure the renewal of our accreditation, the team had to regularly carry out a large variety of activities.  The independent auditor needed to see evidence of these activities and our documented results.  These activities include:
Monitoring every customer issue and recording non-conformances if and when they arise
Carrying out internal investigations of non-conformance to understand why any problems have occurred and to ensure actions are agreed and implemented to prevent a recurrence
Completed monthly reports to monitor various aspects of the business that directly affect customers, such as stock levels and delivery performance
Annual senior management review meetings to review the quality performance of the business and discuss and agree where further improvements can be made
In addition, we have an annual full day assessment from QMS International.  During this assessment, the QMS representative checks the Fairburn processes and procedures to make sure that we are fully compliant with the ISO 9001:2015 standard and that we are doing everything possible to ensure that we achieve the very best standards of product and services for our customers.  The assessor also looks for continuous improvement – this is a central theme of the ISO 9001 system and is in its own way proof that the system is being used properly and delivering positive results for Fairburn and our customers.
"Maintaining the ISO 9001 processes and procedures helps us reassure customers that we have full visibility of our performance and the tools to quickly implement corrective action when required" commented Niki Ashdown, Operations Director.
If you would like to find out more about our approach to quality and how it could benefit your business, please  use the contact form on this website  or give us a call on 01886 358 025.